get the bookmarklet and sign up
Talkino solves the age-old problem with online commenting.
It avoids divisiveness and headaches caused by disagreeable readers, because we have found a way to remove waste and bring in quality through comments curated for each specific user - thanks our unique commenter-rating system.
Comment wherever you like and filter the waste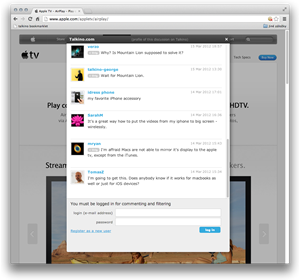 Talkino lets you independently comment - through the Talkino bookmarklet - over any webpage, even on sites that don't allow comments in the traditional way.
You can use the filter to read only the comments from compatible people that appeal to you.
However, this is just an option. If you prefer, you can see every comment.
Start by choosing a story from the news aggregation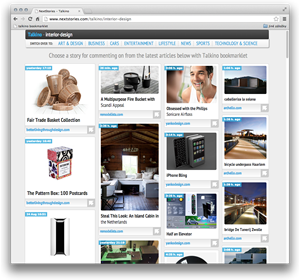 You can also choose a story for commenting on from a news aggregation of the latest articles organized by topics, where stories already commented on by Talkino users are labeled with a red bubble icon.
Discover articles with interesting and useful comments
Comments and commented on articles then show up in a automaticaly curated news feed in each users account. Unlike personalized magazines, the algorithm that selects the articles for each user is based on the users' compatibility settings with other commenters. In this way Talkino matches compatible commenters together and helps you discover articles with interesting and useful comments.
Community guided filtering
Within Talkino, people rate each other and not the comments themselves. You have three standard options to choose from. You can give a positive or negative mark (meaning to increase or decrease a user's points) or you can leave the user unranked.

However, everything else works unconventionally:
Within Talkino it doesn't matter if the user is your friend, belongs to a kind of group or interested in the same topics as you whereas other attributes are more important.
If you like the user and his way of commenting and you'd like to discuss matters with him then give him a positive mark. He will then become YOUR GUIDE.

If your guides rate other people then an average rating of those people is calculated specifically for you based on your guides' ratings. This way the people you come across will have received a positive or negative average mark, determined specifically for you, by your guides, even if you've never met them before and Talkino can filter them accordingly.
On the other hand, if you don't like the user and feel he has nothing useful or beneficial you can give him a negative mark. You will then block this user from your feed and at the same time decrease the user's rating for your followers, meaning the people who've given you a positive rating. In contrast, if you mark a user positively, he will not only become your guide but you will also increase his rating for your followers.
The third option is to leave the user unranked and let your guides make a decision on them. People who've received a negative average mark from your guides are indicated by a red dot in the circle. People who've been positively rated by your guides are indicated by a green dot.

Due to this kind of valuation you can take advantage by using the filter that is employed in your comment feed within the platform and also, by clicking on our bookmarklet, in the window over the page you are discussing with others. The filter has five levels as featured in the table. The default and recommended level is 2 (Hide disapproved by my guides)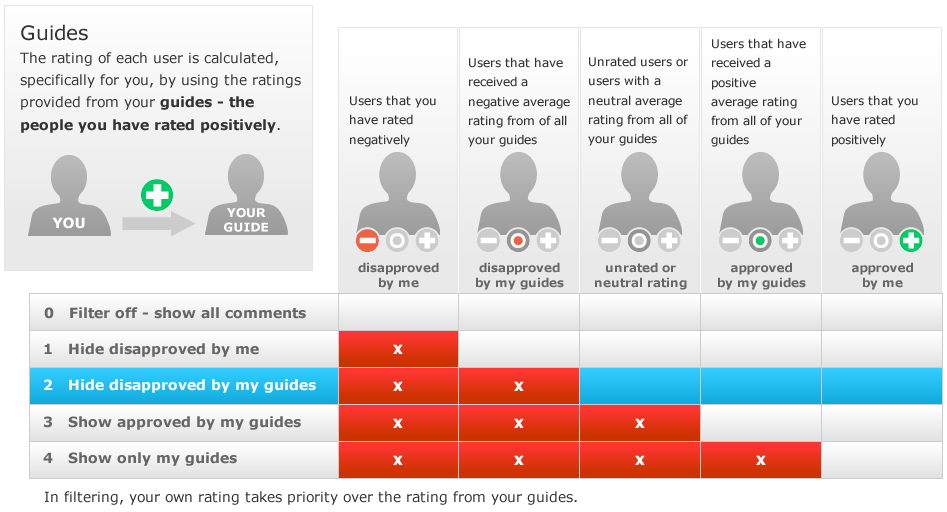 Independently comment over any web page.
Finally, you can discuss or comment on any online story or web service without being bothered by stupid comments from non-compatible people and you can enjoy discussions with only compatible people (not necessarily with the same opinion). If you click on the (previously installed) Talkino bookmarklet while you are on a particular web page, an independent discussion window will pop-up over the page itself regardless of what discussion platform is being used on the website, or even if there isn't any at all.
You can comment with one account, in one environment, on zillions of pages on the net – and, thanks to "Community guided filtering", without trolls and other annoying people that have nothing useful or beneficial for you.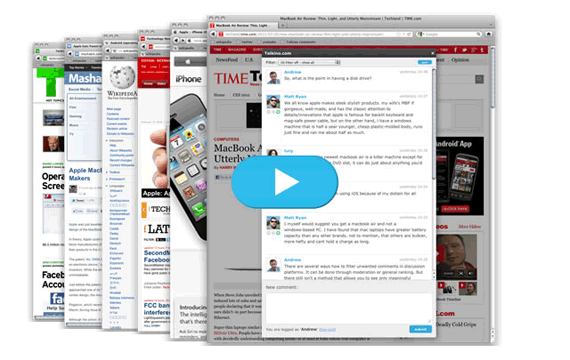 It's a social game – get your reputation and influence
Talkino is a kind of a game in which everything revolves around the quality of content you share, the style of your comments and how you behave. The better you act in Talkino the more people will rate you positively and then your influence over others can change a lot.
In the administration section there is an overview of all the people that you have rated and those that have been rated by your guides with metrics that allow you to play about with building your community.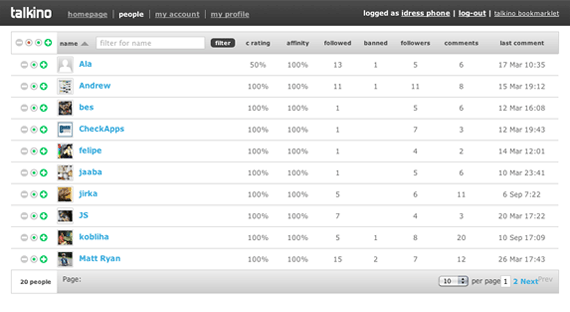 To be successful only share good stuff, comment like a pro and find as many guides as possible, who can help you filter unwanted content from your feed, and ban as many non-compatible people to help your followers. To put it simply, be useful and beneficial for others!
Once you are logged-in, invite your real friends, using an in-app invitation feature, to become talkino users too, so you can comment on topics together – anywhere, anytime.